Well I'm sad to say I ate so much on Friday night and Saturday morning I couldn't stomach much when we headed to China Bar Buffet for lunch on Saturday! This week I have to get back into my gym routine, I've let it slip for the last couple of weeks. It's just so hard to get myself to go when it's freezing and dark and raining and my gym buddies haven't been going either. Time to get motivated!
Back to the food. Advance apologies for the varying picture quality, some photos were taken on my DSLR, some on my phone. On Friday night we headed out to Vic Bar on Victoria St for Jen's birthday celebrations, so on the way we went into one of the Vietnamese places nearby. Ray was set on having Bun Bo Hue so we went into Halong Bay as they have it on the menu.
Ray said it was pretty good, not the best he's had but not bad. Same goes for my broken rice. Good, but not outstanding. The serving sizes are good though, prices as expected for cheap Viet and the food came out really quickly. I also got my favourite drink - avocado smoothie yummmm. If you haven't had it before, give it a try before you knock it! Lots of condensed milk added so it's sorta sweet and probably not very good for you. Perhaps it's an acquired taste... you should try it anyway!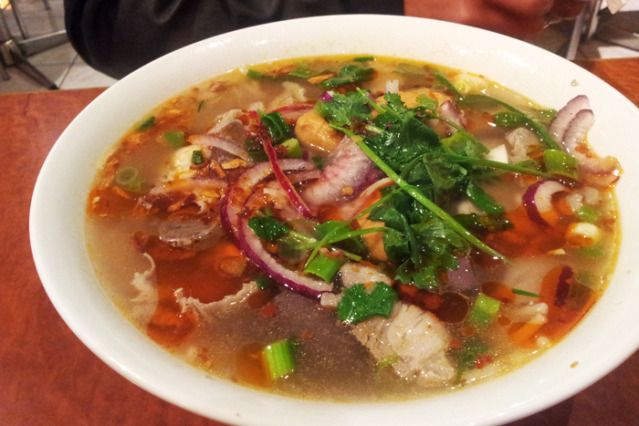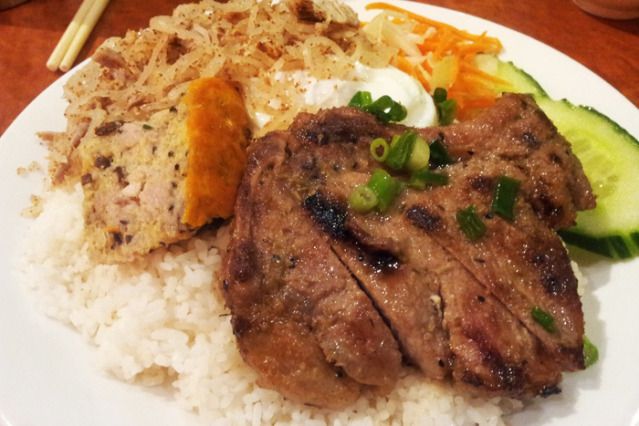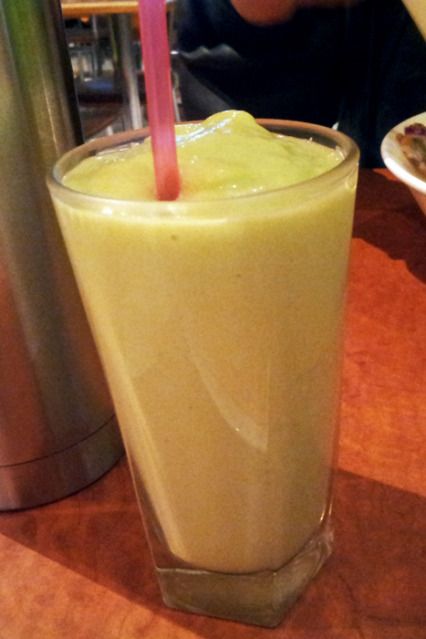 Vic Bar was pretty cool, we hadn't been there before. Love the $10 cocktails from 6-9pm. There was a DJ there pumpin out some phat beats too. Good times.
The next morning I had to be up at 8am to get ready for a breakfast date with my girls. Bianca had purchased a couple of daily deals for a high tea photoshoot at Image Superstore. Unfortunately their dates didn't work out with ours so we just ended up having the high tea without the photoshoot. The cost of the deal was $49 for 4 people, so pretty good for the tea itself anyway. I wouldn't pay whatever the normal price is supposed to be for the tea though. And if we were to have the photoshoot, it doesn't include any photos and apparently the prices are sky-high. No thanks. The studio was really cute though, they had heaps of vintage-y props. We ate in the cafe section which was quite nice. Each person got to have a hot drink, two mini quiches/party pies, two quarters of foccacia (chicken and vegetarian), one mini macaron, one scone and one other little biscuity thing. It was quite filling!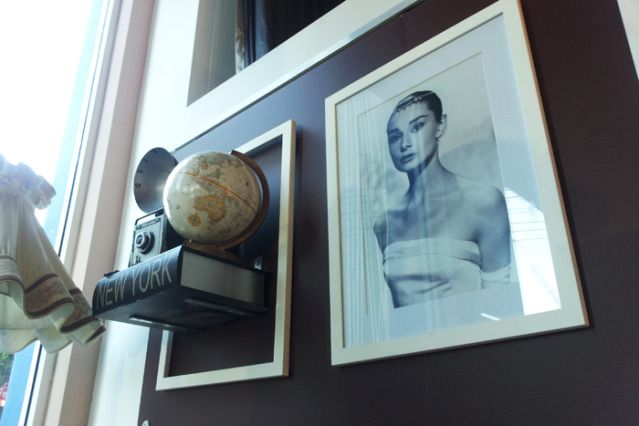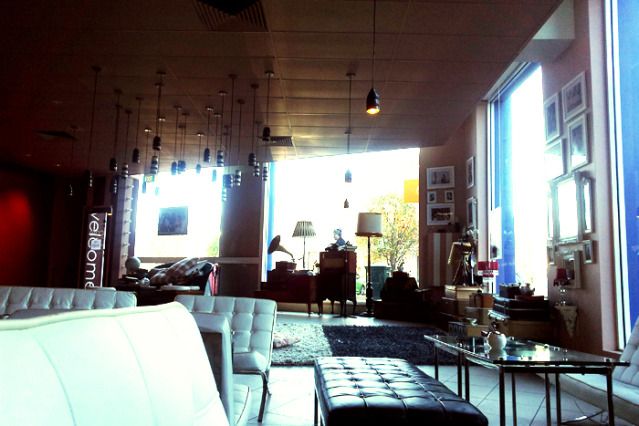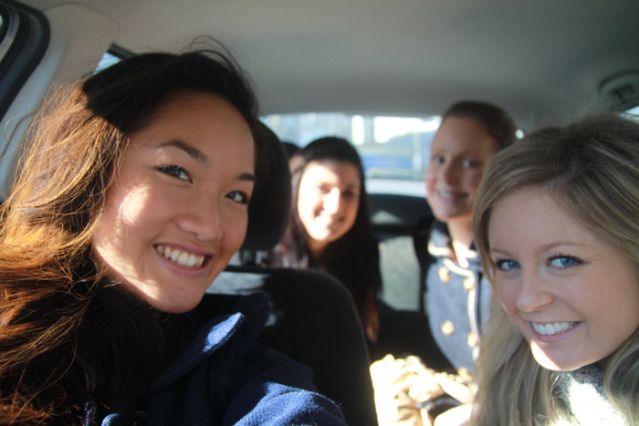 Sorry to my out of focus back seaters!
After I dropped the girls off I had to head straight over to China Bar Signature Buffet in Burwood. I was not hungry, how unfortunate. I had to pee after all the coffee I'd had, and was put off the food even more by my visit to the dirty toilets. They have an earlier lunch session and we were there for the second one (1:30-3pm). They obviously don't clean them in between. Yuck.
The price for lunch is much more reasonable than dinner and there is a fair spread of food. No seafood or peking duck at the lunch session though (I could eat peking duck pancakes all day...). So I dug into some dumplings and sushi. Had a mini vanilla slice for dessert. Did not eat my money's worth :( I see Domestic Divinity also headed to China Bar recently but to the one in the city. It looks a lot nicer than the one in Burwood, so I might have to give that a try when I'm feeling super hungry. Helloooo chocolate fountain!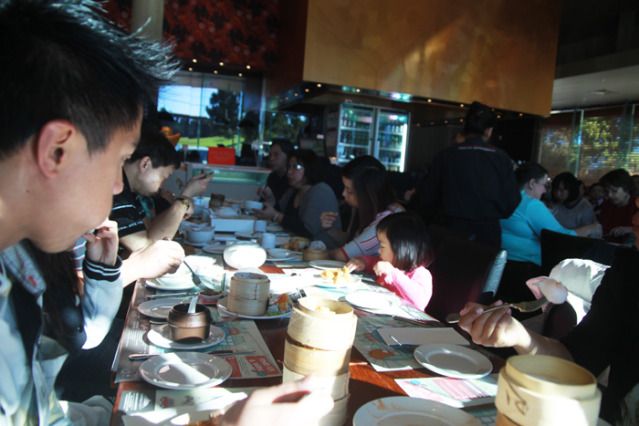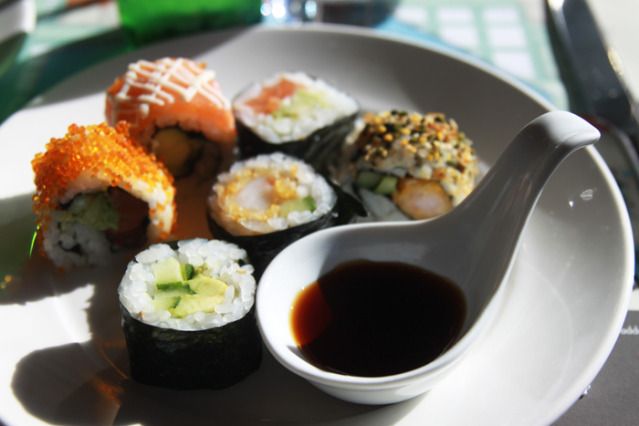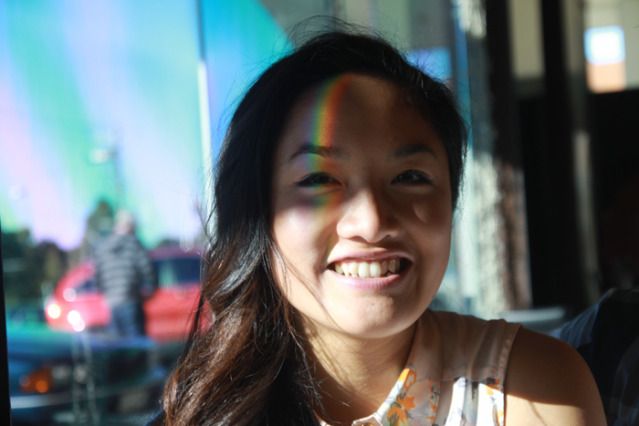 The kids thought my "rainbow face" was hilarious.
Didn't get hungry again til about 9pm so we then ordered some pizzas from Domino's. They have a super Saturday special so we were able to get 3 pizzas, two 1.5L cokes and one garlic bread delivered for $34. I think that's pretty reasonable. Especially given the number of steps the delivery man has to go up to get to our front door. I always feel sorry for them. They have a couple of new flavour combos out and we tried the new Chilli Beef. It has: chilli beef (obviously), mozzarella, red onion and diced tomato on... *drumroll* Tom Yum sauce! What the! Sounded interesting, tasted interesting. I'm still undecided as to whether I like it or not, the tom yum flavour was very strong and not something I would have thought to put on a pizza. If you don't like tom yum, you definitely will not like it.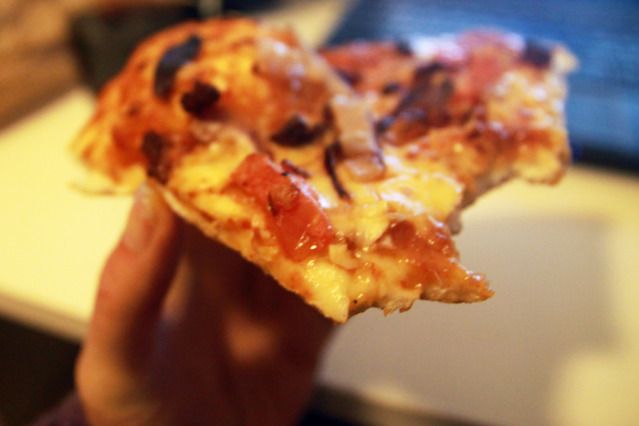 So that was my exciting weekend of eating, looking forward now to blogging about something other than food!